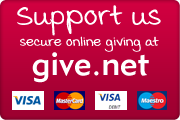 News!!!
They saw what seemed to be tongues of fire that separated and came to rest on each of them. All of them were filled with the Holy Spirit and began to speak in other tongues as the Spirit enabled them.. (Acts 2:3-4 NIV)
Do we speak the language of love or hatred? of peace or war? of inclusion or discrimination? Is our language being influence by the Holy Spirit or by something else?
-----------------------------------------------------------------------------
Help us raise fund to restore our clock faces with our RESTORE, DECOR & REMEMBER Christmas 2018 Big Give Challenge. For more details, please click here.

-----------------------------------------------------------------------------
St Lawrence Jewry is the official church of the Lord Mayor of London and the City of London Corporation and stands in the Yard of the Guildhall.
It was re-built by Sir Christopher Wren after the Great Fire of 1666, but there has been a church on the site for around 900 years.
After extensive damage in the Second World War, it was again re-built.
We are here to show the love of Christ to those who live and work in the City of London, and we seek to be welcoming to the many people who pass through our doors.
The church is open from 9am to 5pm, Monday to Friday.
Come and visit us soon. You will find a fascinating building to look round, and somewhere to stop, be still, think and pray; a place of tranquillity in an area of world commerce and business. We have a number of resources to aid you in this. For more information read about the Royal Marines Chapel.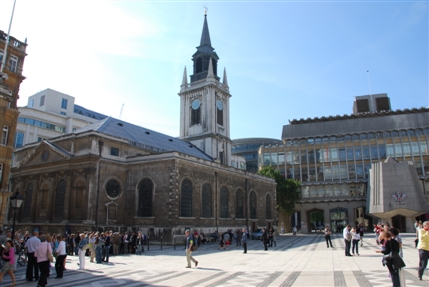 Our main services of the week are Holy Communion on Wednesday mornings from 8:30 - 9:15am and Friday lunchtimes from 1:15 - 2pm are currently suspended for the month of August. Regular services will resume on Wednesday 5th September. Everyone is welcome to attend these services, which take place in the Commonwealth Chapel.
The most pompous annual service happening in this church is the Lord Mayor Election Day Service. This year, it will on Monday 1st October at 10;45am. Open for public but with very limited seats available. To know more about how The Lord Mayor of London is being elected, then please click here.
listen to 'City People: Canon David Parrott' on Audioboo
Contact:
The Vicar, Canon David Parrott, can be contacted at the Church (address below), by telephone 02076009478 or by email.
St Lawrence Jewry
Guildhall Yard
London
EC2V 5AA
Charity No. 1157187
You can find us on this map.
We are part of the Diocese of London in the Church of England.