News!!!
We now have a twitter account. Follow us on Twitter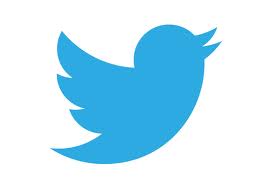 Do you want to discover the secret places inside St Lawrence Jewry? Then do come to our next Friends' event on Tuesday 28th May at 6:00pm. It's a ticketed event, £10 for Friends and £12.50 for guests. Kindly contact Katrina for details and to book your place.
-------------------------------------------------------------
St Lawrence Jewry is the official church of the Lord Mayor of London and the City of London Corporation and stands in the Yard of the Guildhall.
It was re-built by Sir Christopher Wren after the Great Fire of 1666, but there has been a church on the site for around 900 years.
After extensive damage in the Second World War, it was again re-built.
We are here to show the love of Christ to those who live and work in the City of London, and we seek to be welcoming to the many people who pass through our doors.
The church is open from 8am to 6pm, Monday to Friday.
Come and visit us soon. You will find a fascinating building to look round, and somewhere to stop, be still, think and pray; a place of tranquillity in an area of world commerce and business. We have a number of resources to aid you in this. For more information read about the Tower Chapel.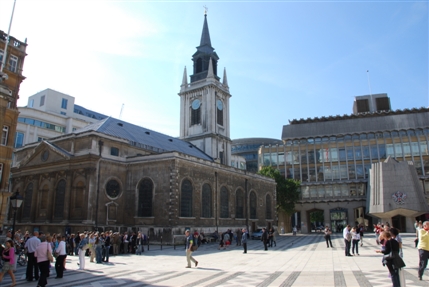 Our main services of the week are Holy Communion on Wednesday mornings from 8:30 - 9:15am and Friday lunchtimes from 1:15 - 2pm. Everyone is welcome to attend these services, which take place in the Commonwealth Chapel.
Morning Prayer is also said every day, from 8.30 - 9.00am, in the Tower Chapel.
Our next civic service is the St Lawrence Jewry Rededication Service on Monday 1st July 2013 at 6:00pm.
We extend a special welcome to you to join us at these services if you have not visited us before.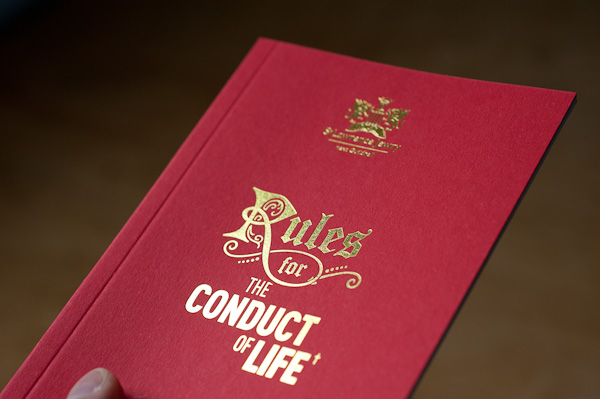 New publication: Rules for the Conduct of Life
We are pleased to announce the publication of a new version of the book Rules for the Conduct of Life. This exciting new venture has been undertaken by the Guild Vicar, Canon David Parrott, who has brought this landmark book, with its invaluable teachings and advice, right into the twenty-first century.
More information can be found here.
Another book by David, which we recently launched, is The Windows of St Lawrence Jewry, a glossy and colourful guide book explaining in details the intircate designs and their purposes.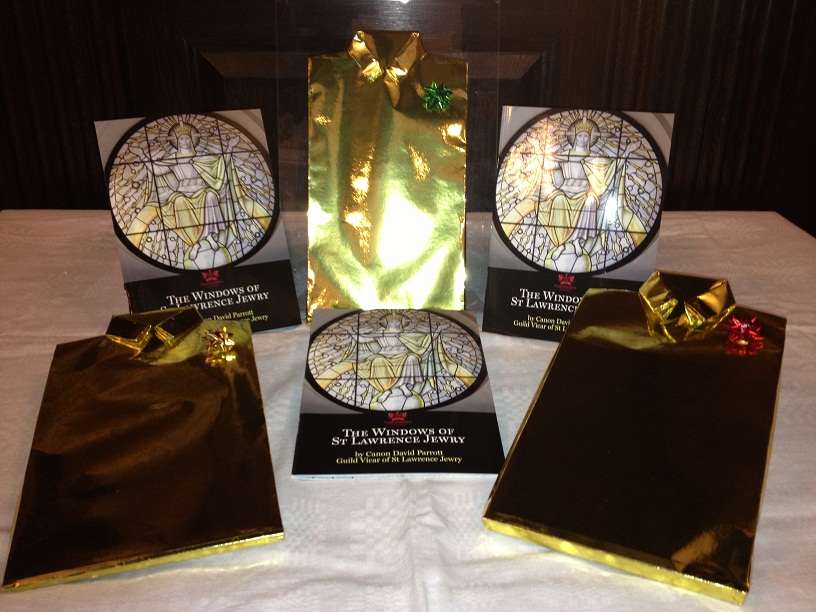 Contact:
The Vicar, Canon David Parrott, can be contacted at the Church (address below), by telephone 02076009478 or by email.
St Lawrence Jewry
Guildhall Yard
London
EC2V 5AA
We are part of the Diocese of London in the Church of England.
You can find us on this map.